Actors Venkatesh and Rana Daggubati weren't kidding when they kept reiterating that their first web series Rana Naidu is a family drama that is best viewed in isolation. This note of caution is for those who have followed their work in Telugu cinema and might tune in expecting something feel-good. Rana Naidu, Karan Anshuman and Suparn Varma's Indian adaptation of the American series Ray Donovan, is a dark crime and family drama replete with sex, nudity and foul language. Once you look past this, the series has a few things going for it even though it is flawed and at times, clunky.
Rana Daggubati is cast as Rana Naidu, a fixer who cleans up the dirty secrets of celebrities in Mumbai. It could be as murky as retrieving a semen sample being smuggled in an ice bucket (I am not making this up)! For all that cleaning up act he does for others, Rana's own life is a mess with scars from the past. 
The first two episodes work as character introductions to the members of the Rana Naidu family — his wife Naina (Surveen Chawla), a former actress in Telugu cinema before she married Rana and moved to Mumbai, and their children Ani (Madhav Dhingra) and Nitya (Afrah Sayed). Rana's older brother Tej, the stunt choreographer (Sushant Singh), and younger brother Jaffa (Abhishek Banerjee) both reel from scars from a rough childhood. There is some sort of semblance to the family until the father, Naga Naidu (Venkatesh), steps out of Chanchalguda jail in Hyderabad and arrives in Mumbai.
Rana Naidu (Hindi-Telugu)
Cast: Venkatesh Daggubati, Rana Daggubati, Surveen Chawla, Sushanth, Abhishek Banerjee
Direction: Karan Anshuman and Suparn Varma
Music: John Stewart Eduri
(Streams on Netflix)
The series is filled with characters that range from brooding to over the top. Rana and his team —  Lara (Lauren Robinson) and Srini (Adithya Menon) — put on a stoic persona no matter how dirty a job they are cleaning up. Their poker-faced expression gives away nothing and they do not speak more than what is barely necessary. In one scene a character asks Rana, if behind that stoic persona, he is someone who secretly cries watching Baghban on television. At the other end of the spectrum are the purportedly annoying character Prince Reddy (Gaurav Chopra), Naga's older brother Surya (Ashish Vidyarthi), the financier OB Mahajan (Rajesh Jais) and the many women they have liaisons with.
Karan and Suparn build the world of Rana Naidu and its principal characters peppering them with Telugu lines and Dakhni phrases. 'Baigan ke bataan' and 'izzat ka falooda' are thrown around liberally for the characters that have their roots in Hyderabad. Naga Naidu is the most colourful of the lot as the patriarch who is nearly dismissive of the emotional trauma his sons carry since childhood. 
In contrast to the feel-good and family-friendly characters Venkatesh has played in Telugu cinema for decades, he does everything that can be considered inappropriate as Naga Naidu. And he seems to have had fun walking the wild side. The face-offs between him and Rana are the high points of the series. The real-life uncle-nephew duo stop at nothing on the screen. Rana has played the bad guy earlier, but this brooding act is in a darker space than his mainstream Bhallaladeva in the Baahubali films. For the most part, he is required to appear brooding but the series gives him the occasional window to portray the agony of a man who desperately wants to keep his family afloat. Rana uses his towering personality to play the menacing fixer and is also convincing during his meltdowns or when he shares warm moments with his children who are dealing with their own angst.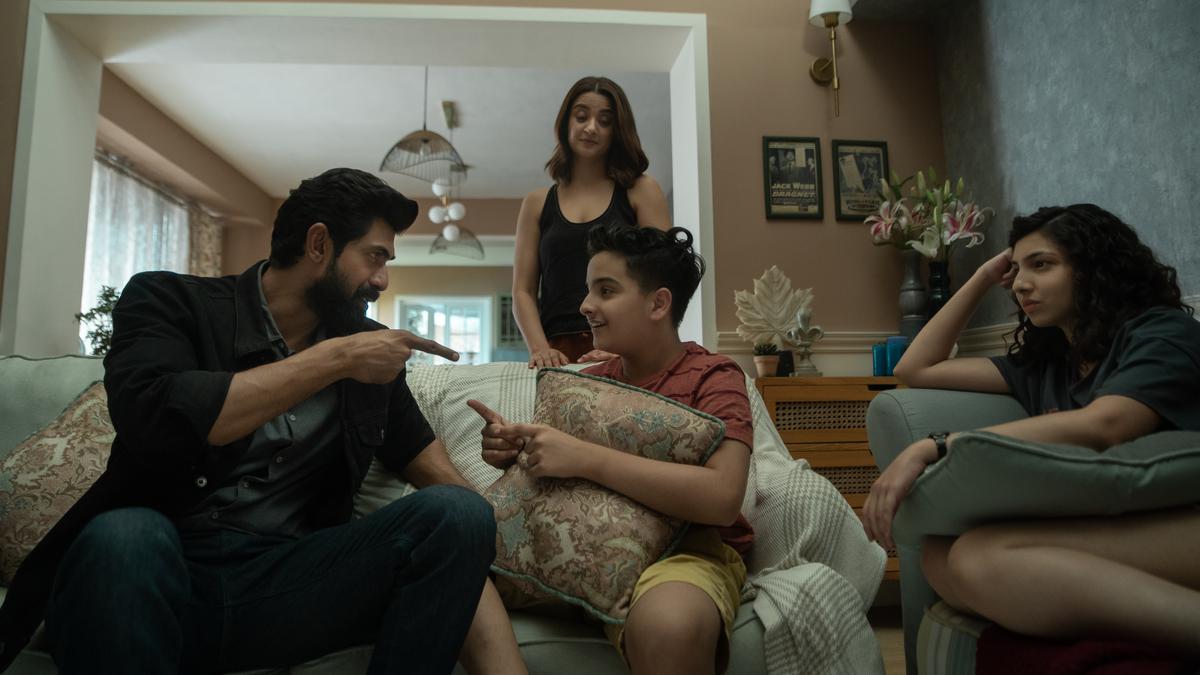 The merry-go-round of crime that shadows this family plays out for far too long and not every subplot or character holds interest. The one that moved me the most is the story of Jaffa (Abhishek Banerjee comes up with an internalised, empathetic portrayal). When he opens up about his guilt of not saying a firm no to his abuser as a child, Suparn and Karan use the plot point to emphasise that a victim does not have to wallow in guilt. Both Abhishek and Sushant play their characters with sincerity. 
Surveen is cast in a part that can appear nagging with repetitive lines such as 'what the hell, Rana?' or 'what the ****, Rana?'. Caught in a situation where she doesn't know what dangers the family faces and what exactly Rana is up to, her anger is not out of place. 
While Naga's characterisation shifts between bad, oblivious, ugly and an occasional streak of good, the story doesn't give a clean chit to Rana either. There's Suchitra Pillai too but what exactly was the point of her character?
For Telugu movie buffs of the 1990s and 2000s, there are throwbacks to Venkatesh's older films and songs. For the others, there's some morbid humour. Picture a patient asking a neurosurgeon what are his chances of survival after a surgery for brain tumour and the next shot showing us the board 'bheja fry 50%'. 
Beneath all that dressing up of sex, alcohol and expletives, Rana Naidu has an undercurrent of pathos. Cinematographer Jayakrishna Gummadi uses warm and dark tones to accentuate the grim atmosphere, aided by John Stewart Eduri's background score.
There are a few rewarding payoffs towards the end of the 10-episode series. But overall, can Rana Naidu be better? Most definitely.
(Rana Naidu streams on Netflix)