T.V.S. Mahadevan exuded energy as his repertoire included two ghana ragas. But he chose the lighter Kanada as the main.
Mahadevan, who performed recently for Suswaraa Trust's music festival, began with Tulasivanam's 'Pranatosmi devam vinayakam' in Nattai with a few strands of swaras. 'Narada guruswami' in Darbar (Tyagaraja) had a a series of kalpanaswaras with a fair usage of jantai and dattu swara passages. Dikshitar's 'Sri Ranganathaya' in Dhanyasi carried sobriety. Mahadevan elaborated Nagaswarali, which has a strong semblance to Bahudari, but he highlighted the distinction with clarity in his presentation. He sang 'Sreepathe neepada' (Tyagaraja) with gandharam-centric swaraprastaras at 'Rajathi raja'.
A precise Thodi raga alapana by Mahadevan had all its signature phrases intact. Swati Tirunal's 'Sarasijanaba murare' was his choice of kriti here. The charanam line 'Muravarida samira' was taken up for a brief niraval without a swarakalpana.
The next raga taken up by the vocalist was Kalyani and the kriti was Subbaraya Sastri's 'Ninnu vina gati gana jagana'. One rarely hears this kriti on concert platforms now. A few swaras were added at 'Pada pankaja mula' with nishadam as the landing note.
The major share was given to the Kanada treatise, and Mahadevan traversed all the octaves with ease to emphasise the raga's beauty . Can there be a better choice here than Tyagaraja's 'Sukhi evvaro'? The emotive rendition culminated in the swaraprastara at the pallavi itself. He punctuated it with a variety of permutations and combinations centered on 'sa ri'.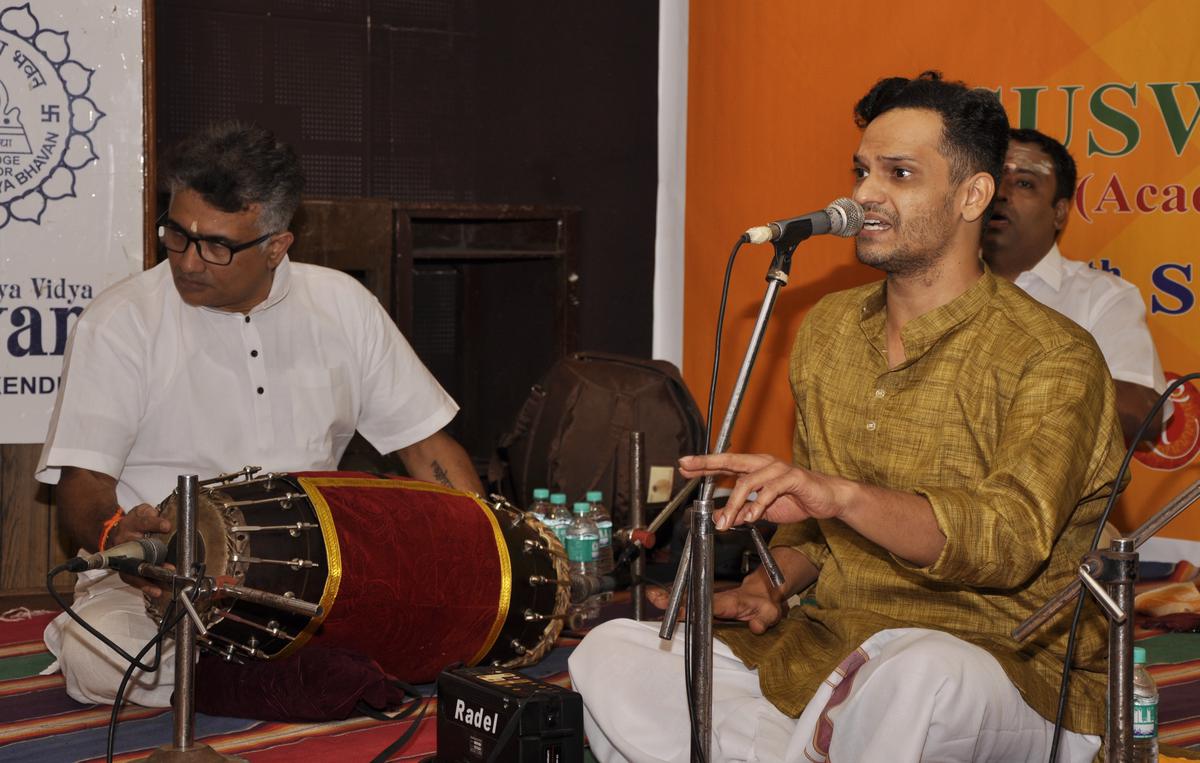 In all the raga and swara endeavours by Mahadevan, violinist M.R. Gopinath's contribution was noteworthy. He followed the vocalist without dilution. Same was the case with the percussionists — Trivandrum Balaji and Hariharan Prasanna, on mridangam and ghatam. Their tani was sharp.
The signing off session also featured several kritis – 'Aadum chidambaramo' in Behag by Gopalakrishna Bharati, 'Anbudan ennai ala va' in raga Priyadarshini, his own composition, Annamacharya's 'Nee namame maku' in Madhyamavati, and the English Note introduced by the legendary Madurai Mani Iyer, and popularised by Mahadevan's father and guru T.V. Sankaranarayanan.
Only a thin line demarcates passion and overzealous presentation, and Mahadevan's good training should help him maintain it in his music.
It is, indeed, gratifying to note that Mahadevan is diligently carrying forward the legacy of Madurai Mani Iyer and Sankaranarayanan.