People belonging to two different factions populate a village and live harmoniously. The hero resides in 'meltheru' while his best friend is from 'keezhtheru' and the bond they share is an embodiment of the goodwill the two communities share with each other. Knowing that this camaraderie has to be broken for access and control, politicians plot schemes to turn the people against each other and this leads to altercations, ranging from a rift in their friendship and loss of innocent lives. This is the story of the recently released Shanthnu-starrer Raavana Kottam. Surprisingly, this is also the base for Arulnithi's latest film Kazhuvethi Moorkkan directed by SY Gowthama Raj, who made his debut with the underrated Raatchasi. But thankfully, the similarities stop there as Kazhuvethi Moorkkan is a better-written film that actually leaves you wishing for more depth in that writing.
Kazhuvethi Moorkkan (Tamil)
Director: SY Gowthama Raj
Cast: Arulnithi, Santhosh Prathap, Dushara Vijayan, Munishkanth, Rajasimman
Runtime: 150 minutes
Storyline: Politics rears its ugly head, causing tension between two factions of a village that leads to deaths, mayhem, and more
"Saadhi namakku saami mathiri (Our caste is like our god)," says a character, and a war between those who want to make and break those constructs for their betterment forms the crux of Kazhuvethi Moorkkan. We've got Moorkkasaami (Arulnithi in his element), an angry young man as the name suggests, who understands the privileges that his family and community enjoy, and on the other hand, we've got Bhoominathan (Santhosh Pratap), who, akin to his name, is someone who takes it all with patience and works for the progression of his oppressed folks. Havoc reigns when Moorkkan's father is attacked and all clues direct to Bhoomi being the perpetrator leaving our hero a mystery to be solved.
Rural backdrops are a staple to Tamil cinema and anti-caste films, the new wave in Tamil cinema, are thankfully coming up at regular intervals, and then there are those rare instances where both these tropes amalgamate. In Raatchasi, there's a sequence where Jyothika's character takes action against students who fight among themselves as they belong to different communities. Gowthama broadens this sequence into a story of an entire village. The story of Kazhuvethi Moorkkan, macroscopically, is just another veshti-folding, sickle-swiping, moustache-swirling revenge drama. But it's the moments in between and the stance the film takes that make it stand apart.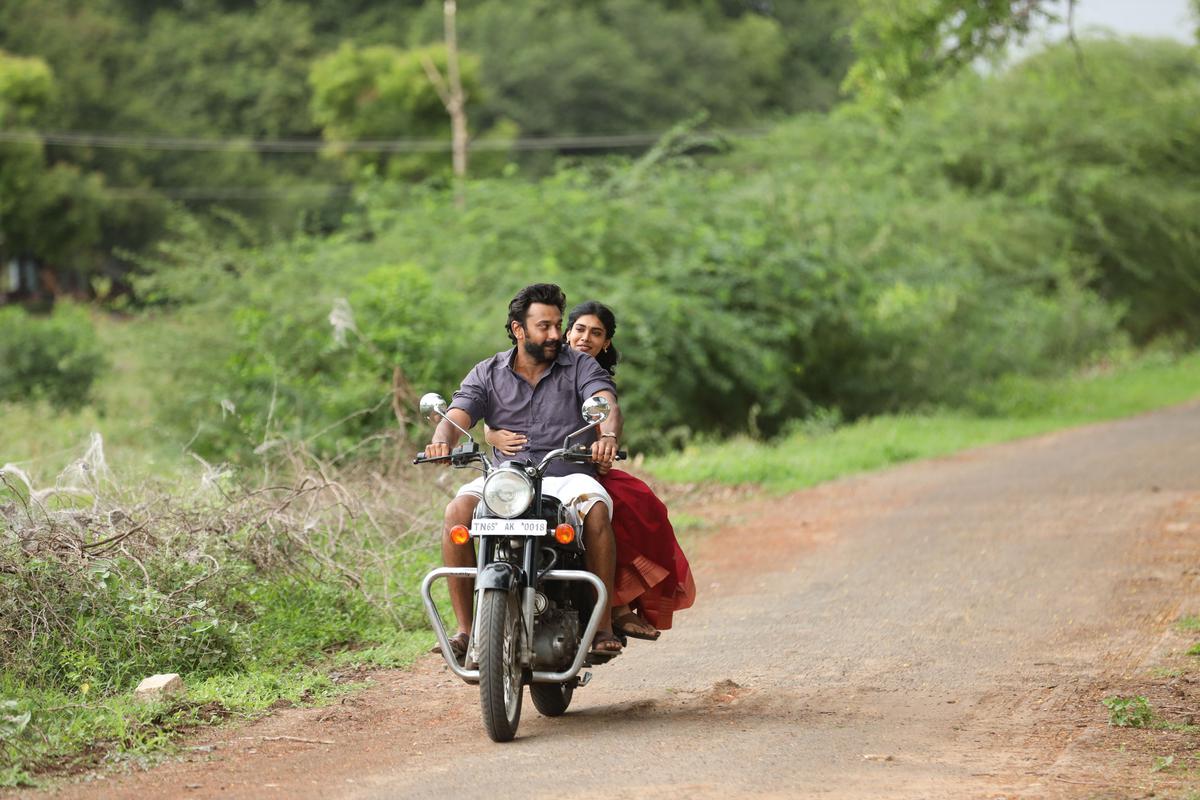 What works in favour of the film is the impressive cast that carries an otherwise template story to safe lands. Arulnithi looks apt as the titular character who strikes before speaking and Santhosh, on the other side of the scale, balances it up with his soft demeanour. The actors actually saving the film is more evident in the romance portions between Moorkkan and Kavitha (Dushara Vijayan). Gowthama makes up for this by infusing his progressive stance in a film that throws a spotlight on a sensitive issue.
Like the use of actors' fan club boards to denote which community the people of that street belong to, or the dialogues that challenge what the oppressors consider as bravery, many ideas stand out. There's a brilliant line that Bhoomi shares with Moorkkan about how having a large moustache is also attributed to a certain caste. We also get some impressive sequences like the one involving Unmai (Munishkanth) when his past is revealed, and that involving a retired father who reminds his in-service son of the need to be on the side of the victim. But these slivers of gems are few and far between and are never given the space to be developed as the film keeps treading over familiar territory throughout the film.
We get the usual songs that unnecessarily pull us out of the story, the fight sequences that send goons flying, and the preachy dialogues on the adverse effects of social demarcations. The twists don't surprise us either. We're introduced in the beginning about how impalement as a punishment has often been reserved for those committing the worst of sins and how such devices of death, like the cross, have become a symbol of upholding truth and righteousness. Given that it's actually also in the name of the film, there's no point guessing how this becomes a MacGuffin to how a vital character meets his end. On the whole, Kazhuvethi Moorkkan has its heart in the right place but succumbs to mediocre writing, and while terrific performances salvage it to be a decent entertainer, the film leaves you wishing for more.
Kazhuvethi Moorkkan is currently running in theatres