[ad_1]

When the love of his life abruptly disappears, a man lives in denial as his mental health takes a toll. That's the one-liner of Kamal Haasan-Rati Agnihotri's 1980 classic Ullasa Paravaigal and it also forms the base for Radha Mohan's latest film Bommai, starring SJ Suryah and Priya Bhavani Shankar. The legendary 'Dheiveega Raagam' track from the yesteryear film, composed by Ilaiyaraaja, gets a new rendition in Bommai thanks to his son Yuvan but the similarities between the films stop there.
In Bommai, SJ Suryah plays Rajkumar, a mannequin painter whose art makes the dolls look as real as the humans they're made to emulate. When he skips the prescribed psychiatric drugs, he sees his lost childhood sweetheart Nandhini in a mannequin that has a finishing defect on its face resembling Nandhini's mole. The lengths he goes to get back his lost love is the story of Bommai.
Bommai (Tamil)
Director: Radha Mohan
Cast: SJ Suryah, Priya Bhavani Shankar, Chandini Tamilarasan
Runtime: 145 minutes
Storyline: A man falls in love with a mannequin, imagining it to be his childhood sweetheart. Will he reunite with his one true love?
It's no secret that Suryah is a tremendous performer; in just the last five years, he has showcased his mettle irrespective of whether he's playing the villain (like in the case of Spyder, Mersal, Nenjam Marappathillai or Maanaadu), a supporting character (Don) or the hero (Monster and Vadhandhi: The Fable of Velonie). But the unique story of Bommai, mounted completely on its lead cast, is the perfect platform for him to go bonkers and that's exactly what he does. His little attempts at getting back Nandhini feel like small victories and every single time he fails, it tugs our heartstrings.
On the other side, Priya delivers one of her best performances in recent times. Though that's a relatively simpler benchmark to achieve given how little importance her characters have had in the last few films she has starred in, Bommai offers her a reasonably expansive canvas. Given how Nandhini is a figment of Rajkumar's imagination, she not only asks the questions that Rajkumar already has the answers to, but she also becomes an extension of his true self. When he gets angry, she calms him down and when he feels helpless, she gets enraged. That chemistry between the leads reminded me of Fight Club, apart from the obvious Guna (another Kamal Haasan film) that you can't help but draw comparisons with while watching Bommai, and a few other psychological thrillers like Kadhalil Vizhunthen. The biggest strength behind the camera is undoubtedly Yuvan's songs and background score. Apart from the 'Dheiveega Raagam' rendition that's both angelic and daunting at the same time owing to the film's use of it, the 'Mudhal Muththam' track in Yuvan's voice is a song that should've been viral by now.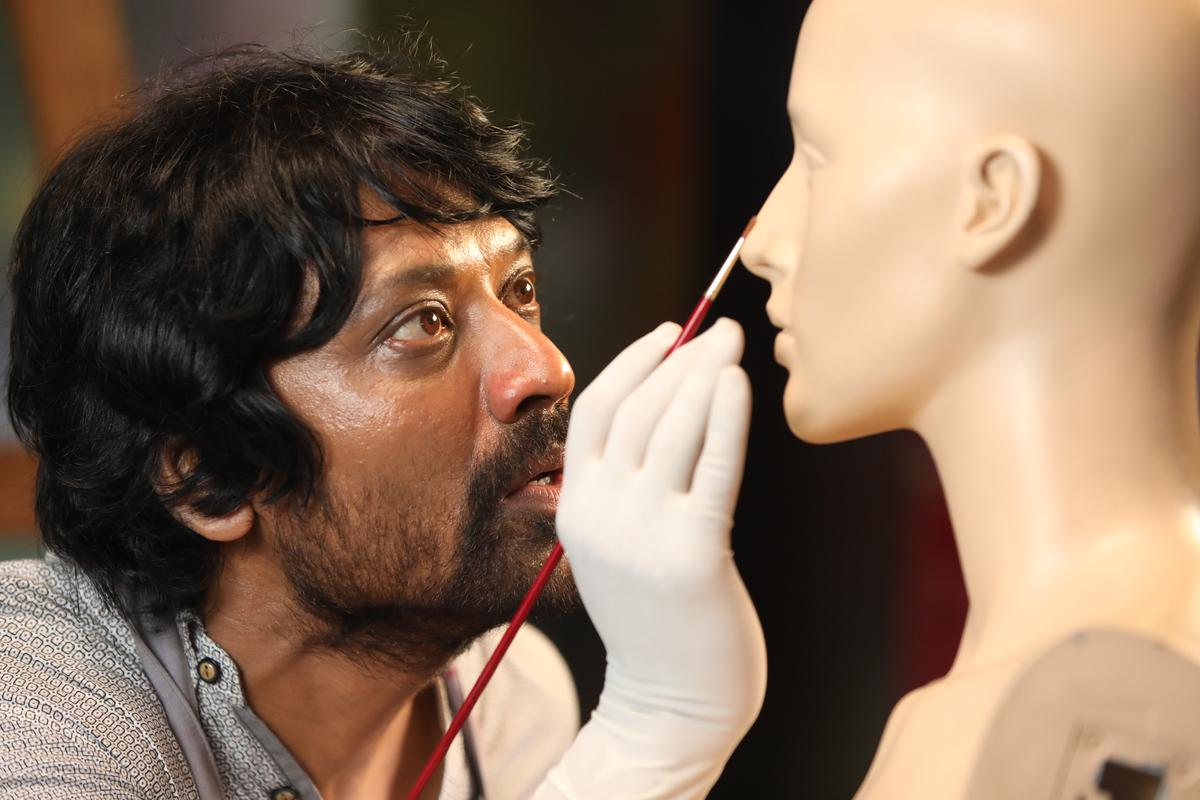 On the flip side, the film, unfortunately, has a lot going against it than for it. For starters, the plot, despite being poignant, is extremely thin to justify the film's runtime; the film is stretched till it's cinematically impossible to make it any slower. Apart from the lead actors, the rest of the characters are painfully uni-dimensional. There's Priya (Chandini Tamilarasan), a character who is fond of Rajkumar but never gets closure. A man gets killed who is said to have links to organ trading and it leaves us hoping that will get connected to the younger Nandhini's kidnapping story but that subplot gets buried along with him. We've also got the usual hero's friend who would go to the extent of visiting Rajkumar's therapist more often than the patient himself. Then there's a store manager whose job only includes sexualising mannequins and being a creep to the women employees.
The scenes involving the lead make for some of the best moments in the film but that's not all Bommai wants us to concentrate on. There's also an investigation angle that feels almost like a spoof of the cop-based thrillers our film industry is churning out at regular intervals. It's hard to believe that humour, one of Radha Mohan's strongest suits, fails to work in Bommai, despite coming right after his criminally underrated comedy film Malaysia To Amnesia.
Bommai, despite an intriguing premise, falls prey to the cliches of melodramatic love stories. In spite of some of the best performances from the lead pair, cliched and predictable writing makes the film fall flat like a rag doll.
Bommai is currently running in theatres
[ad_2]

Source link