[ad_1]

In one of Maamannan's most important and stunningly captured sequences, a bunch of kids are having the time of their lives, swimming and playing in the temple well. When upper-caste men know about this, they stone almost all the kids to a watery grave. The news of caste-related violence is unfortunately not new. But it's the way Mari Selvaraj frames this particular sequence that makes it stand apart and feels apt to be part of the Mari Cinematic Universe, if one can call it so.
The kids from the oppressed community are at the bottom of the well while the oppressors are on top, attacking the defenceless. One of the kids manages to escape from the onslaught of stones thrown and runs to the top of a nearby hill; so high that the ones who stood on top look small. The kid cries at the fate he escaped while understanding how high he has to reach to be liberated from the perils of caste. This subplot also happens to be the story of Maamannan, starring Udhayanidhi Stalin, Keerthy Suresh and the fantastic Vadivelu and Fahadh Faasil.
Maamannan (Tamil)
Director: Mari Selvaraj
Cast: Vadivelu, Udhayanidhi Stalin, Fahadh Faasil, Keerthy Suresh, Lal
Runtime: 158 minutes
Storyline: A father-son duo turns from pawns to players in the game called politics
The film starts with a shot of our State Assembly and just like how Asuran asserted the importance of education, Maamannan stresses the significance of position and responsibilities that come with power. Vadivelu plays the titular character, an MLA who rose up the ranks – from being a cadet in a party named Samathuva Samooganeedhi Makkal Kazhagam where Rathnavel (Fahadh Faasil), is the district secretary, a position that was once held by the latter's father. But what's a position and its powers when self-respect and social justice go for a toss? An altercation causes Maamannan and his son Athiveeran (Udhayanidhi Stalin) to have a meet with Rathnavel and seeing how his father had been disrespected for years, Veera lashes out at the opposite fraction, starting a chain of events that cannot be undone.
Apart from the politics and ideologies surrounding social justice Mari has become synonymous with his unique metaphors and imagery, and Maamannan is no different. Rathnavel indulges in dog races and has no qualms about killing the poor creatures when they lose. He sees his fellow party members from the oppressed community as akin to the hounds he breeds and expects only loyalty and results in exchange. On the other hand, Veera is fascinated by pigs, saves one from ritualistic sacrifice as a child and even dreams of them having their own pair of wings. Similar to how the titular hero of Pariyerum Perumal considered his pet Karuppi to be an extension of him, Veera finds that parallel with a piglet, the sole survivor of an unwarranted attack, just like him. Right from Mari's signature wide-angle shots and hat tip to Buddha, Ambedkar and Che Guevara the references continue subtly to a Wakanda T-shirt and Veera being an Adimurai master, a martial art not commonly practised by those from the oppressed community.
It's when the film focusses on Maamannan that Mari does the talking directly. Just like his name, Maamannan's character is etched to be a patient go-getter that's opposite to his son's impulsive behaviour. The stoicism also lends Vadivelu immense scope to perform and boy, does he put on a show. As an actor who has entertained us for years by making us laugh when he suffers, in Maamannan, he makes us cry with him. In a particular scene, he weeps helplessly as a father who is unable to bring his son's wrongdoers to justice and whenever he drowns his sorrows in the songs he poignantly mouths, it tugs at our heartstrings. For a performer who is known for his over-the-top actions and reactions, Vadivelu does a phenomenal job by underplaying his role and sticking to realism that leaves us wondering why we've never seen him in such roles. The closest we've gotten were glimpses in films like Sangamam, Em Magan and Thevar Magan. And it makes complete sense after watching the film as to why Mari drew parallels between Maamannan and Thevar Magan's Esakki.
After Vadivelu it is Fahadh Faasil who steals the show by becoming the human form of terror he wishes to instil in people around him. His approach towards the character features many traits that might overlap with other characters he has done in Malayalam films but he treads carefully to become an emblem of injustice. This idea of a full-fledged antagonist is quite unique to Mari's films where certain ideologies and those too deep into the concept of systemic oppression have been the villains and not a single man.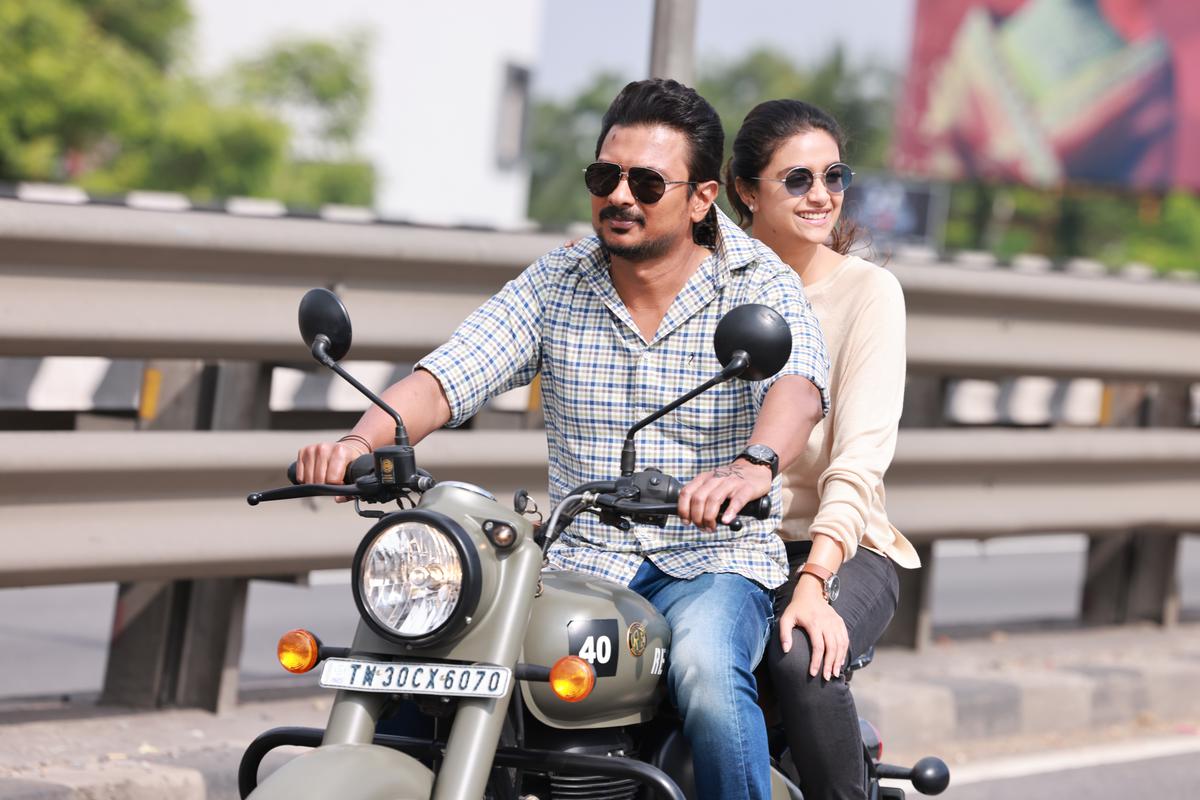 Despite a limited filmography that leaves us wishing it grows, it's difficult to not draw comparisons to Mari's previous films. Given the brilliant track record, it's apparent that Mari has opted for a slight deviation when it comes to the treatment of his story and that has predominantly not worked in favour of the film. Unlike Pariyerum Perumaland Karnan where the conflict is established early, we almost get to the intermission in Maamannan to get an idea of where the story is heading. In spite of having a spectacular interval sequence that has now become a trademark of Mari's films, the second half is rather insipid and falls flat. It's when the film trades its rawness for certain commercial compromises – like a redundant romance track and mass moments that don't translate into gratifying sequences – that the film falters.
If Pariyerum Perumal's Jo was oblivious to the oppression her boyfriend faced and if Karnan's Draupadhi was a mere bystander to the infringement her village folks faced, Maamannan's Leela (Keerthy Suresh) tries to be part of the solution. Though it's a fascinating character and Keerthy sells it really well, the film has very little to offer her. Speaking about the two films, the hard-hitting sequences in them were followed by mellow ones that will still push the director's message convincingly. For the death of Karuppi and Pariyan's ill-treatment, there was a beautiful final shot involving two tea glasses. For shots of custodial violence and ravaging a village, there's a shot of Karnan dancing happily with his folks like there's no tomorrow. Those sequences that rather feel like warm hugs from the filmmaker are visibly missing in Maamannan.
Unsurprisingly, Maamannan is a technically strong film but even if AR Rahman's songs are ear-pleasers, the background score is a tad underwhelming. The film has a long list of brilliant lines, like the one where Rathnavel says, "Unna ukkara vaikaadhadhu dhaan ennoda adaiyaalam, un paiyana ukkara sonnadhu en arasiyal." Fans of yesteryear Tamil cinema would also love the cheeky touch of roping in Vijaykumar for the role of the opposition party leader. The film's noble intentions and take on oppression, and the need for reservation are commendable and it's apparent why Udhay wanted this to be his swansong, especially given that it's partly inspired by MLA P Dhanapal's rise to become the first Dalit Speaker of the Tamil Nadu Assembly which happened during the AIADMK rule.
Maamannan certainly has its heart in the right place and touches upon several important topics like reserved constituencies. While there are scenes that one would love to see in Mari's films, they are scarce and far between. On the whole, Maamannan is an underwhelming political drama that's saved by its lead cast's brilliant performances. But who cares about an imperfect ruler when the kingdom is ruled well?
Maamannan is currently running in theatres
[ad_2]

Source link