[ad_1]

Franchise fatigue is real and given the number of film series in Hollywood, which Indian film industries are also warming up to, it's here to stay. But the Mission: Impossible film franchise, which is based on a TV series from the 60s and is now spanning close to 30 years with seven films, is far from hitting us with fatigue. In fact, with the latest addition to it, Mission: Impossible – Dead Reckoning Part One, Tom Cruise and team have taken the awe and excitement to a whole new level and like a running Cruise, the franchise too seems unstoppable.
Mission: Impossible – Dead Reckoning Part One (English)
Director: Christopher McQuarrie
Cast: Tom Cruise, Hayley Atwell, Ving Rhames, Simon Pegg, Rebecca Ferguson, Vanessa Kirby
Runtime: 164 minutes
Storyline: Ethan Hunt and co. have to track down a new weapon that can threaten humanity and control the world if fallen into the wrong hands
Set right after the events of Fallout, Dead Reckoning Part One has Ethan Hunt (Cruise) and his gang of agents once again going above and beyond the call of duty to save the world. Only this time, it's not for clearing his name, fighting a rogue agent, going against the syndicate or stopping a pandemic or a nuclear war. This time, the threat is a "godless, stateless, amoral enemy" and more importantly, eerily contemporary. Named 'the Entity', it's an artificial intelligence with enough power to rule or ruin the world. While it's logical to think that every government would want that destroyed, we are far from the utopia we want as the major world powers want this sentient form for themselves so they can reign supreme. Ethan has to go rogue (once again), regroup with Luther Stickell (Ving Rhames), Benji Dunn (Simon Pegg) and Ilsa Faust (Rebecca Ferguson), and find the two physical keys that, when combined, can control the AI.

Also read: Tom Cruise says he hopes to keep making 'Mission Impossible' movies until he's 80
2018's Fallout still stands tall as my favourite pick of the lot. But when it comes to the second best, along with Rogue Nation (2015), Dead Reckoning makes for a strong contender. This is predominantly because of how director Christopher McQuarrie takes the best elements of the franchise, amplifies them and makes the conflict a current predicament which, on a meta-level, Hollywood itself is facing and has led to the Writers' Strike. Cruise and McQuarrie have been working together for the last three MI films (and the upcoming sequel) and it's been a winning combination that has made the series' best films. They've taken the franchise to newer heights by distancing themselves from other genre favourites like James Bond and the Bourne movies that comparatively remain serious and thrive on realism, yet not becoming as over the top as the Fast & Furious movies.
A realistic, well-detailed story has never been the MI franchise's strongest suit and Dead Reckoning Part One doesn't fall from far that tree. Be it the idea of machines taking over mankind or a MacGuffin that has to be put together to make them work, they are anything but new. And then comes the rehash of older ideas that make the repetitions less exciting. But just like the cruciform key that includes two pieces that come together to be whole, the film (along with the sequel that's releasing next year) has more than a couple of ties to the franchise's first film. While it doesn't linger on how life has come full circle for Ehan Hunt for long, it throws him and us right at the centre of the action involving more players than we're used to from this franchise.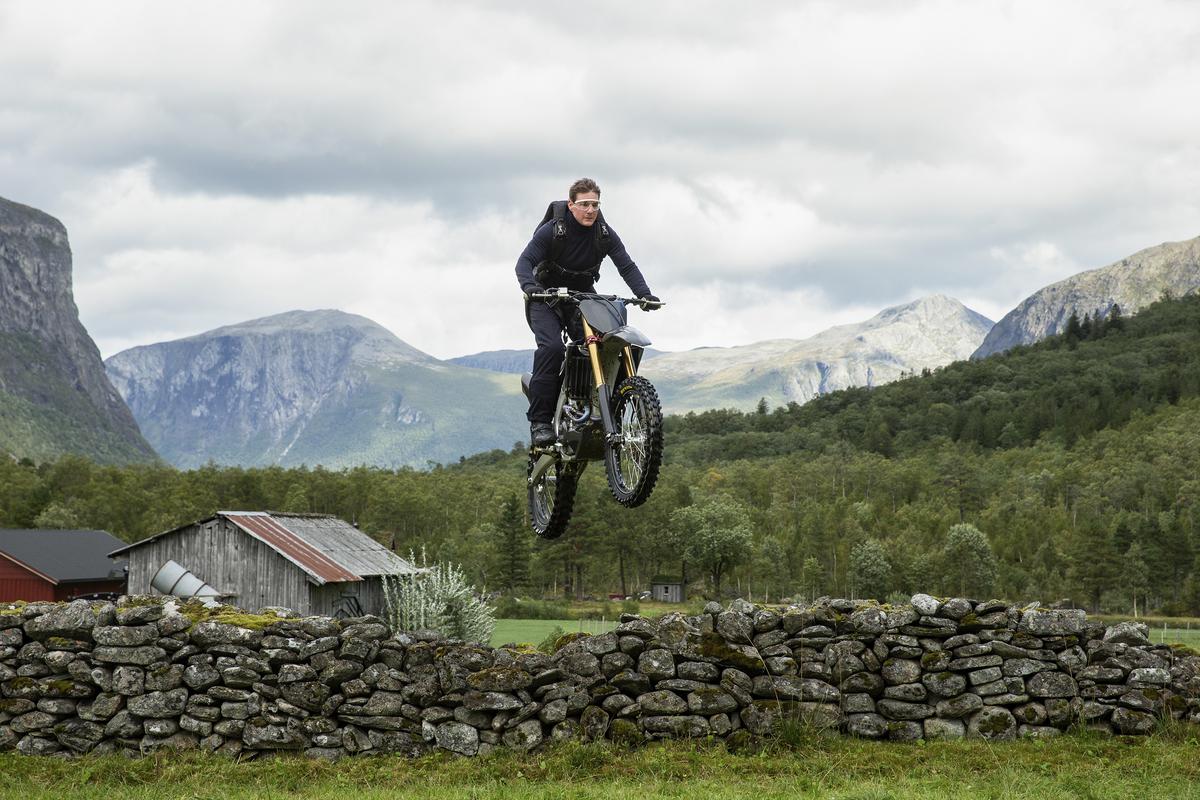 And boy, when this film goes into action mode, we know we're in for a treat. Dead Reckoning Part One arguably has the best action set pieces we've seen in the franchise and we're talking about a franchise where Cruise has done a halo jump, hanged from the side of an aeroplane, and climbed the Burj Khalifa. The time, he takes it up a notch – quite literally – and jumps off a cliff with a motorbike. It's not often we see an actor wanting to shoot a stunt sequence first so that the makers will know if they can continue with the film or not if something goes wrong. Fascinatingly, this is just one among the many action set pieces in the film. Right from his first shot, Cruise offers a restrained performance and that's despite a good chunk of screen space offered to other characters. With the inclusion of fantastic additions like Grace (Hayley Atwell), Paris (Pom Klementieff) and the return of Alanna Mitsopolis (Vanessa Kirby), some franchise favourites like Ilsa Faust (Rebecca Ferguson) take a back seat. Given how the franchise is expected to continue without Hunt, the makers are probably introducing us to those who'd carry the baton forward.
Last summer, Cruise saved Hollywood after the pandemic slump with Top Gun: Maverickand after a slew of big releases bombing at the box office this summer, he's at it again, before Barbie and Oppenheimer can lend a helping hand. Mission: Impossible – Dead Reckoning Part One is an extremely fun trip that will make us forgive its drawbacks and forget its 160-minute-plus runtime. With impressive action sequences and surprisingly well-written female characters, it's a near-perfect intro to Dead Reckoning Part Two that will be a swansong for one of Hollywood's best action characters, portrayed by the last great action hero of Hollywood.
Mission: Impossible – Dead Reckoning Part One is currently running in theatres
[ad_2]

Source link