[ad_1]

LGM became a topic of discussion in Tamil film circles because it was being produced by cricketer MS Dhoni, who has become Tamil Nadu's adopted son thanks to his exploits for the Chennai Super Kings.
LGM, however, has nothing to do with cricket. It's a romantic comedy. And the makers might have just missed a marketing trick by titling it LGM, when they could have actually named it MSD. Which expands to not Mahendra Singh Dhoni, but Meet, Sing, Dance.
Because, this 153-minute tale involving Gautham (Harish Kalyan), Meera (Ivana) and Leela (Nadhiya) is essentially that. Gautham falls in love with Meera, and they are in love for two years; a story that is hammered into us in every subsequent scene that we wish they had never met in the first place.
LGM
Cast: Harish Kalyan, Nadhiya, Ivana, Yogi Babu
Director: Ramesh Thamilmani
Storyline: A girl plans a trip with her prospective mother-in-law
But will they get married? No, because Meera does not wish to live with Gautham's mother Leela.
What was a small part in the Dhanush-Amy Jackson segment in Thangamagan is the core conflict of LGM. And how do Gautam and Meera think they will solve the problem? By going on a trip with the families, so that they get to know each other.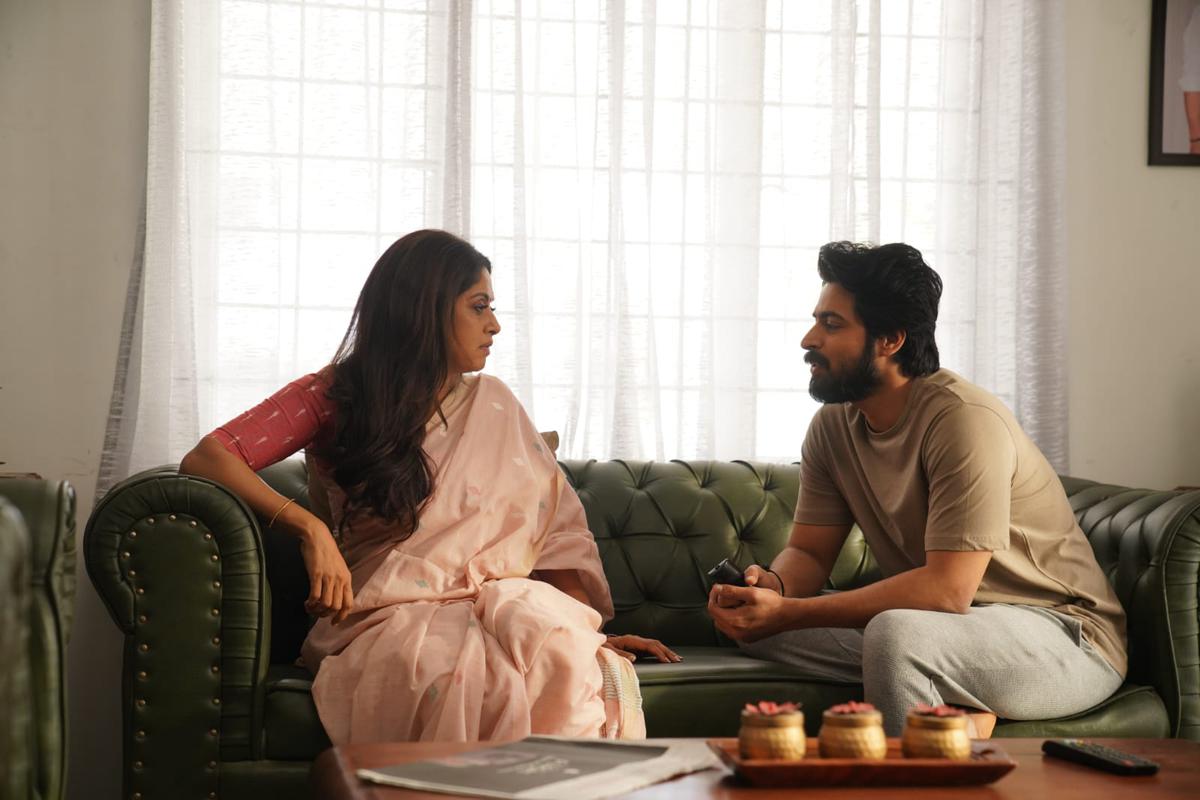 And thus begins a ride that is neither engaging nor funny, and is the equivalent of a Dhoni innings at the crease without any boundaries or sixes. There's a superficiality in almost all sequences. The dialogues are not delivered naturally, it feels very rehearsed. The characters talk like they are waiting for the other person to deliver, and then respond, rather than chat spontaneously.
Watch | MS Dhoni speaks at the audio launch of "LGM"
| Video Credit:
Special Arrangement
Nadhiya and Ivana keep pronouncing rendu as randu, something that really put me off, but their chemistry does work in parts. The imagery of a mother-in-law partying with her prospective daughter-in-law is a good idea on paper, but LGM could have executed those scenes better. For what is essentially a love story, there is little chemistry between Harish Kalyan (a staid performance) and Ivana. The comedy and music tries to salvage things — Mirchi Vijay and Yogi Babu pull off some gags — but the bland nature of the sequences continues to tire you till the end.
LGM could have worked only if the trip was interesting and the characters that journey have memorable exchanges. But unfortunately, that doesn't happen, and audiences are left probing for some semblance of a storyline and performance, much like the lead character and his friend who keep searching for the missing characters in the film.
Ramesh Thamilmani, who has been credited for direction, music composition and VFX, has tried to weave in a family-friendly romantic story, but has, in that pursuit, come up with a weak subject. The characters get to go to Goa and Coorg, but the film really goes nowhere.
Just watching a clip of 'Thala' Dhoni's stride into Chepauk, with DJ Zen's thumping music in the background, might have been more memorable.
[ad_2]

Source link