[ad_1]

The hallowed and coveted ICC ODI World Cup trophy was displayed at THE WEEK headquarters in Kochi, Kerala, today, as part of the 2023 edition of the trophy tour.
The star-studded event was attended by dignitaries such as MP Hibi Eden, Mayor M. Anilkumar, DIG Central Region A. Srinivas, Fort Kochi Sub Collector Vishnuraj, THE WEEK Editor Philip Mathew, Malayala Manorama Editorial Director Mathews Varghese, THE WEEK Chief Associate Editor and Director Riyad Mathew and Malayala Manorama Chief Resident Editor and Director Harsha Mathew.
A quiz competition by noted cricket observer and journalist K. Pradeep was held, along with other promotional activities and interactions.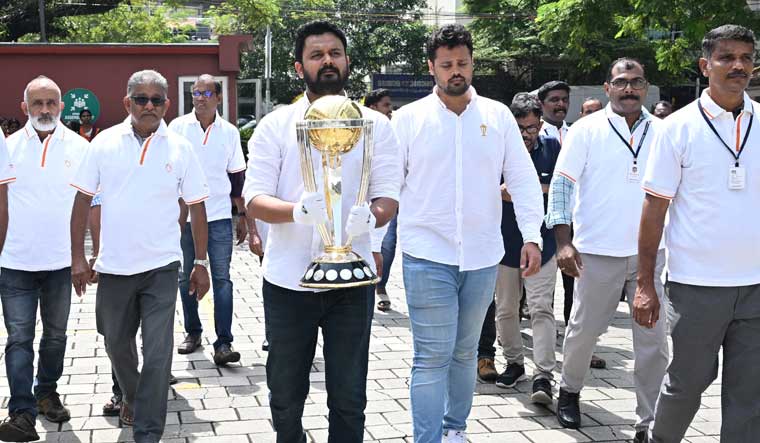 The ICC ODI World Cup trophy being brought to the Malayala Manorama office, which houses THE WEEK headquarters, in Kochi, Kerala | Attlee Fernandez
Also present were film director Abrid Shine, corporation councillor Malini Kurup, Rajasthan Royals player Abdul Basith, former BCCI international panel umpire S. Dandapani, former Ranji player and Kerala coach P. Balachandran, former Ranji players S. Manoj, K.A. Sunil, M.P. Sorab, P. Manoj, C.M. Deepak, K.J. Rakesh, former secretary of Kerala Cricket Association N. Ajith Kumar, and several young female cricketers.
The World Cup trophy arrived in Kerala on July 11 as part of the tour ahead of the ODI World Cup to be held in India from October 5 to November 19.
The 2023 edition of the tour, which was launched in space, will be the biggest ever. The trophy tour began on June 27 in India. It will traverse 18 countries around the world, including Kuwait, Bahrain, Malaysia, USA, Nigeria, Uganda, France, Italy, and return to the host country India on September 4.
[ad_2]

Source link