[ad_1]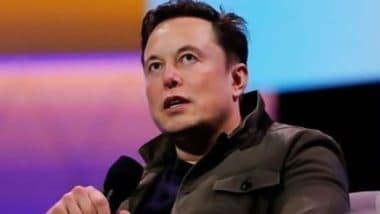 Elon Musk (Photo Credit: PTI)
San Francisco, August 24: Tesla CEO, Elon Musk, on Thursday, threatened a new litigation against those asking for curbs on free speech or related to hate speech claims. His remark was in response to a post on X (formerly Twitter) claiming that non-governmental organisations are raising more hate speech complaints without merit.
On his official X handle, Musk posted, "Exactly. X will be filing legal action to stop this. Can't wait for discovery to start!" Earlier, Michael Shellenberger, who previously published the "Twitter Files" along with other journalists, posted a screenshot of a publication citing unnamed "Soros-funded NGOs". Elon Musk Threatens To Reassign NPR Twitter Account '@NPR' To Another Company After It Stopped Tweeting.
He tagged his post with the caption, "Politicians and George Soros-funded NGOs say 'hate incidents' are rising, but they're not. The data show the opposite: higher-than-ever and rising levels of tolerance of minorities." "The reason they're spreading hate misinformation is to justify a draconian crackdown on free speech," he added.
Earlier, X sued the Center for Countering Digital Hate (CCDH), a nonprofit group that has criticised the company's handling of hate speech, following through on a litigation threat that had been publicly revealed just hours before, reported CNN. Threads Launch: Elon Musk-Owned Twitter Threatens To Sue Meta for Unlawful Use of Twitter IP, Trade Secrets.
The lawsuit filed on July 31 in San Francisco federal court accuses CCDH of deliberately trying to drive advertisers away from X — by publishing reports critical of the platform's response to hateful content. It specifically claims CCDH violated Twitter's terms of service, and federal hacking laws, by scraping data from the company's platform and encouraging an unnamed individual to improperly collect information about Twitter that it had provided to a third-party brand monitoring provider, according to CNN.
The complaint accuses CCDH of engaging in a wide-ranging campaign to silence users of Twitter's platform by calling attention to the views they post on social media. The lawsuit comes after CCDH on July 31 disclosed Twitter's original July 20 threat to sue, along with its response to X's threat calling the company's claims "ridiculous."
(This is an unedited and auto-generated story from Syndicated News feed, LatestLY Staff may not have modified or edited the content body)


[ad_2]

Source link