[ad_1]

The build-up to that 70 something-second phone call from Samantha (Kim Cattrall) was just not worth the pay off. It was so obvious that Cattrall could not bear to be in the same room with her Sex and the City colleagues. All the famed toxicity with Sarah Jessica Parker would not allow it. The makers should have done it more subtly or not featured Cattrall at all in this sequel/revival of the hit '90s dramedy.
This is a strange case of real life shaping the story arc of a fictional character with Samantha moving to London thanks to an argument with Carrie (Sarah Jessica Parker) in And Just Like That…  This is something Samantha would never do. In the show while the ladies have had their arguments and disagreements, all is resolved by the end of the episode.
In the first season of And Just Like That… Samantha was represented with text messages. While she has graduated to voice on the phone in season 2, and die-hard fans might be hoping for a fuller presence in the already-renewed third season, the makers should accept Kattrall's comment of being done with the character and let go of the bold and brassy PR professional.
Apart from the damp squib of Samantha's cameo, the second season of And Just Like That… is an improvement on the dreadful first season. Woke-ness and digital nativity are not willy-nilly squashed into plotlines. The clothes are not as fabulous but not frightful either; I still have nightmares of Carrie's sari/lehenga and the flower Mohawk on her head for the 'Diwali' episode in season 1.
Carrie's back-up boyfriend, Aiden, (John Corbett) is back and thankfully not calling her "pop tart". He is divorced but the youngest of his three sons is giving him grief and the finale sees Aiden asking something of Carrie that makes no sense. Actually a lot of the Aiden-Carrie arc does not make sense. He does not want to go to Carrie's apartment as he has bad memories of the place. And the fix is hook up in a hotel room? I thought the apartment was a metaphor for all that was wrong with the relationship — obviously not.
Miranda (Cynthia Nixon) is still a hot mess, but maybe the BBC interview in the season finale signals a return of the tough, sarcastic Manhattan lawyer we knew and loved so much. Charlotte (Kristin Davis) after going ballistic with delight when her daughter, Rock (Alexa Swinton) gets to model for Ralph Lauren, goes back to work full-time and reveals herself to be the character with most depth.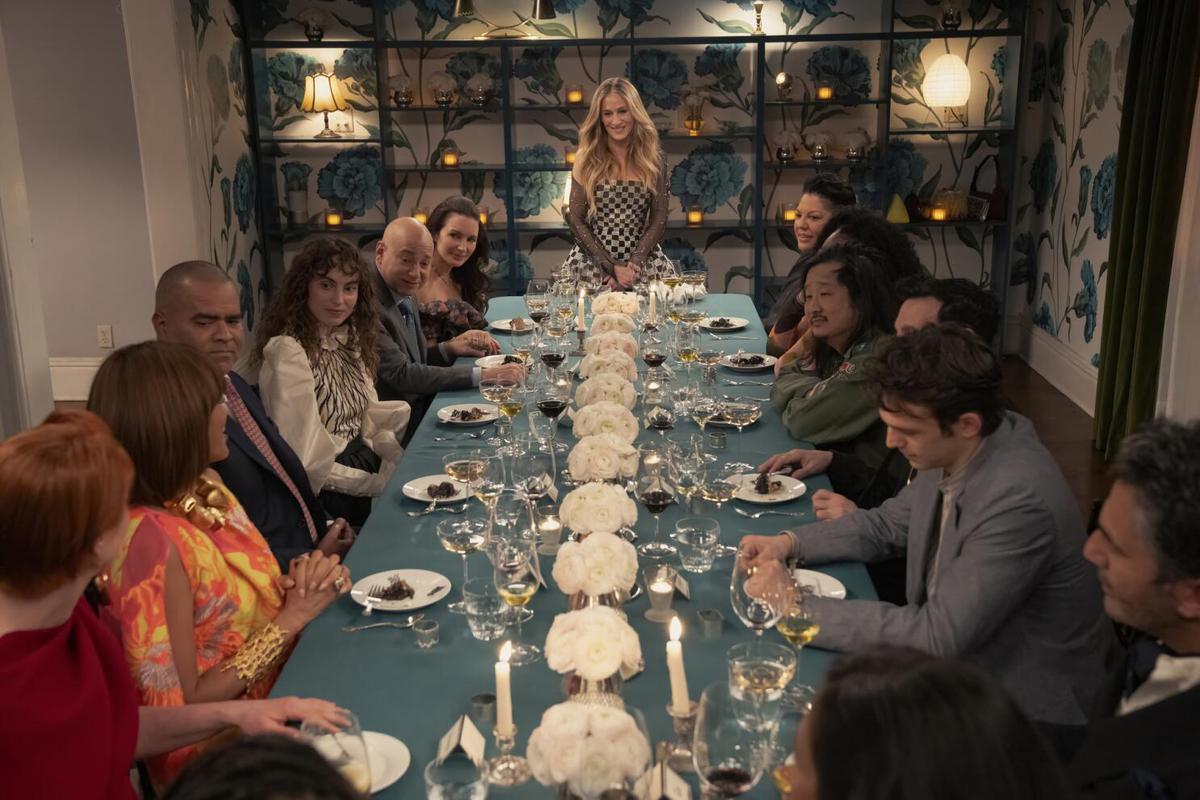 The characters providing background colour for our three privileged ladies, Anthony (Mario Cantone) Herbert, (Chris Jackson) Lisa, (Nicole Ari Parker) and Nya (Karen Pittman), have their fitful arcs; they are after all only satellites without their own light. Steve (David Eigenberg), Miranda's ex-husband, continues to be treated shabbily making him old and obsolete before his time. Miranda's son Brady (Niall Cunningham) and Charlotte's daughter Lily (Cathy Ang) might or might not be having sex. Stanford Blatch (Willie Garson), Anthony's partner, has become a Japanese monk, which is also an odd way to acknowledge Garson's death of cancer in 2021.
The luxe real estate agent Seema (Sarita Choudhury), Carrie's friend and possible replacement for Samantha, finds love with an action movie director Ravi, while the wildly-reviled stand-up Che (Sara Ramirez) is finding her feet again in stand up world after her show pilot and relationship with Miranda fails.
There are some moments in And Just Like That… which work including the third episode where Carrie comes to terms with widowhood and grief, even though she later wonders if Mr Big was a big mistake, but overall the show has now moved from aspirational to an annoying catalogue of rich people problems. (Thanks Kevin Kwan).
And Just Like That… currently streams on JioCinema
[ad_2]

Source link