[ad_1]

A sequel's objective is not just to bank on the success of its predecessor, but also to be better than it by cutting down on the aspects that failed to function and amplifying the ones that worked. Based on those simple terms, Extraction 2 tries to give us a far more gripping story than the first part, and amp up the action that had become a gold standard. While it surpasses the 2020 film with flying colours on the action front, it leaves us wishing we could say the same when it comes to the storytelling.
At the end of Extraction, Tyler Rake (Chris Hemsworth), a former Australian SAS operator turned black ops mercenary, is shot in his neck, throwing him over a bridge to the water below. The yellow tint Hollywood uses to stereotype impoverished Asian and South American countries that paint the skyline of Dhaka turns normal as the sequel starts by showing us how Tyler is saved and airlifted to Dubai.
When he whiles away his time in a remote cabin in Austria, chopping firewood and watching TV with a chicken for company, Tyler gets a new mission. Why does a reluctant Tyler take it up? Because this time, things get personal as his ex-wife's sister Ketevan (Tinatin Dalakishvili) and her kids have to be extracted from a prison where they're held captive. Similar to the first film, the extraction component — despite causing the decimation of what would've possibly been the population of a small village — is the easier part when compared to the after-effects. In Extraction 2, for Tyler, this means killing Ketevan's husband Davit Radiani and becoming enemy number one of Davit's elder brother Zurab Radiani, the head of the Nagazi gang.
Extraction 2 (English)
Director: Sam Hargrave
Cast: Chris Hemsworth, Golshifteh Farahani, Adam Bessa, Olga Kurylenko, Daniel Bernhardt
Storyline: Tyler Rake is assigned to rescue a ruthless Georgian gangster's family from a prison and as always, it's easier said than done
Duration: 123 minutes
Stunt coordinator Sam Hargrave who made his directorial debut with the first film,is back in the director's seat for the sequel; it's evident that he wanted to push the envelope this time. For starters, instead of extracting one kid in Extraction, here Tyler is saving a woman, her teenage son and girl child. While Pankaj Tripathi's character called the shots despite being a prisoner in the first film, the objective here is to extract from a prison. Instead of involving the local cops, governments and forces, this time, the fight is contained. It's between families — one side is led by Tyler and the gang of mercenaries who he considers his blood — and the other comprises Zurab and his lot avenging his family's spilt blood.
Extraction endured from a simple and predictable storyline and the sequel is no different. The makers have tried to force a few layers to the story like the kevlar on Tyler's suit to soften the blow of nothingness, but just like how Tyler still gets stabbed, bleeds and feels pain, the film suffers. The word 'Nagazi' means shepherd but we never understand what that gang protects, despite the very obvious religious references; the climax happens in a church!
Similarly, Zurab has a hearing impairment; one might expect this to be an idea with a payoff later, but while the film travels through Dubai, Georgia and Austria, the sub-plot goes nowhere. The ease with which both sides handle law enforcers also defeats logic of any kind.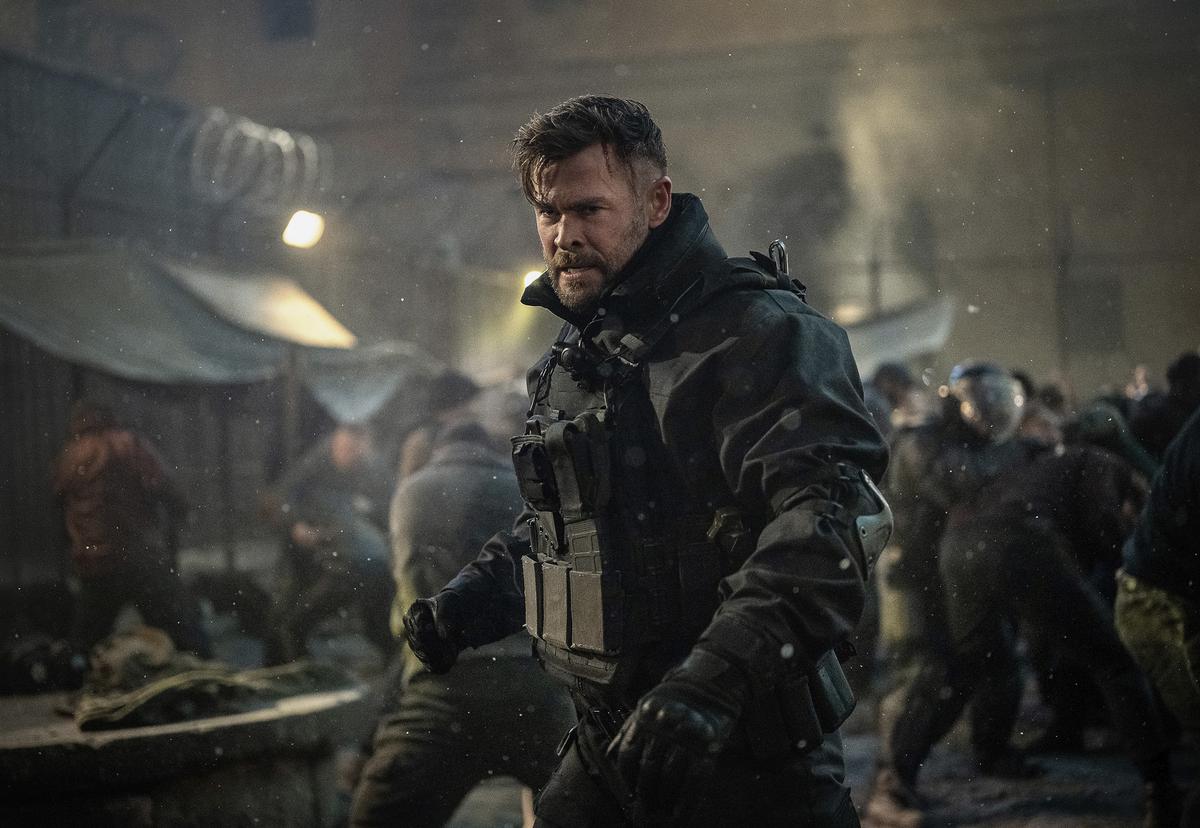 But for everything Extraction 2 lacks, the awesome action set-pieces that are unique to the franchise almost make up for it. Loved the 12-minute single-shot action scene in the first film? The sequel features a 21-minute scene of the same ilk. If the first film's highlight was a superb hand-to-hand combat sequence that led to a car chase, here it's a prison riot involving hundreds of people, followed by a chase that involves everything from helicopters to a train.
Of course, it's a series of well-choreographed sequences put together to look like one seamless shot, but the action itself feels so immersive and authentic that it becomes the centrepiece of the entire film. Indeed, the action is so intense that anything else in between feels like downers. At one point, a character tells Tyler — who is surrounded by men — "These men are killers!" to which Tyler casually retorts with a "Yeah? so am I."
Hemsworth single-handedly carried the first film, but in Extraction 2, Golshifteh Farahani gets a slick role as Nik Kahn. With her losses and retribution, it isn't an overstatement to call her the soul of the sequel. We also get more details on Tyler's son dying of lymphoma and just like in part one, Tyler sees a little of him in Ketevan's son.
Extraction 2 might be a misfire when it comes to having an intriguing plot, but hits the bullseye with its brilliant action sequences. With an extremely predictable story, one can see the twists and turns coming a mile away. Given how that's enough distance for Tyler to neutralise a threat, it's a deal that lovers of action flicks might be willing to take.
Extraction 2 will stream on Netflix from June 16
[ad_2]

Source link